Updates and Information

11/14/2014 - Added 1850 Census for Russell County and linked all soldiers to the census.

10/30/2014 - Added second obituaries for Isaac Puckett and John Taylor Carter to the Obituary page.

10/29/2014 - Added death notice for Harvey Honaker. Added 5th death notice for Henry Hopkins Dickenson. Added 2nd death notice of Elihu Kiser to the Obituary page.

10/27/2014 - Added obituary of John Joseph Fry, second and third death notices for James Jackson Dickenson and third death notice for Samuel W. Aston to the Obituary page.

10/23/2014 - Added second death notice for John W. Fickle to the Obituary page.

10/22/2014 - Added two new Union soldiers (Monsieur LaForce and Patton G. Whited) to the Union Soldiers page. Added eight new Confederate soldiers (Francis M. Ball, Thomas Barker, George W. Barton, John G. Baylor, Isaac H. Draper, Edward W. Lampkin, George W. Ramsey, and William D. Snapp) to the Soldiers page.

10/9/2014 - Updated all soldiers' records, linked each soldier to 1860 Census.

10/3/2014 - Added death notice of James C. Fugate to the Obituary page.

9/25/2014 - Added new obituary of Lilburn Finney to the Obituary page.

9/22/2014 - Added one new letter of John E. Gilmer and 17 new Civil War letters of Isaac Vermillion Reynolds to the Letters section. Added obituary of Elihu L. Kiser to the Obituary page.

9/18/2014 - Added several new soldiers and updated many soldiers' pages.

9/12/2014 - I have just added a new page Miscellaneous mentions of Russell County veterans. This new page has almost 100 additional mentions from the Lebanon News.

9/1/2014 - Added approximately 45 news articles from the Lebanon News to the News page. Of particular interest is an essay written by the grand-daughter of Luther Hart Clapp on his life. Most of the articles have to do with reunions, memorial services, and the Confederate monument.

8/28/2014 - Added new letter of James H. Barrett to the letters page.

8/9/2014 - 9/18/2014 - Added over 160 new obituaries to the Obituaries page.

8/7/2014 - Finished transcribing Compiled Service Records for Union soldiers.

Added scans and transcriptions of all Gilmer letters that I have (approximately 90 letters) with help from Donna Akers Warmuth. Here for the author list and here for the letters in chronological order.
The Letters section has over 150 Civil War letters written to and from Civil War soldiers from Russell County. Families include Barrett, Blackwell, Combs, Cowan, Fletcher, Fuller, Gilmer, Kelly, Kendrick, Martin, McFarlane, Reynolds, Vermillion, and Whitt.
Four photos of Confederate veterans, taken in ca. 1905, ca. 1910, 1912 and 1920. Many of the veterans are unidentified. Can you help?
The Soldiers page has a list of every soldier who served from Russell County.
The Obituary Index is to the many different papers. It has the entire text of the mention in the paper, plus a scan of the article.
1888 Civil War Pension Applications and the 1900 Pension Applications have been added.
Newspaper Articles contains mentions of Confederate veterans and their activities from 1862-1938.

Welcome

to the Russell County, Virginia Civil War Website. Here you will find information on all aspects of

Russell County and the soldiers who served during the Civil War. If you have any questions or comments just drop me a line at greg@rhobard.com I am always looking for more information and resources related to Russell County during the Civil War.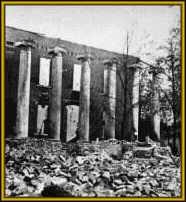 The work of McCausland's brigade. The Court House in Chambersburg, PA 1863.