Updates and Information
4/11/2014 - Updated biographical pages for all soldiers. Huge update, at least 50% of the soldiers have had updated information added.
3/13/2014 - Added basic biographical information for Union Soldiers from Russell County at Union Soldiers.
3/6/2014 - Added obituaries of John Henry Anderson Smith and David Lee Jessee to the Obituary page.
3/5/2014 - Added obituaries of Davis C. Alderson and Samuel Dickenson to the Obituary page.
3/5/2014 - Added photo of Samuel Leece to Soldiers page.
3/4/2014 - Added obituaries of William Dills and Henry P. Meade to the Obituary page.
6/4/13 - Added Civil War letter signed by Elijah Ferrell, Hiram Howard, and William H. Howard describing the Laurel Hill retreat.
3/23/13 - It's here! The largest update I've ever done to this site, adding a page for every single soldier who served from Russell County during the Civil War. Over 1,300 soldiers, along with their complete Compiled Service Records (over 10,000 cards transcribed) and biographical information from my database, including genealogical information, census information, pensions, and newspaper references. The link to Soldiers above now points to the individual soldier's pages. For the moment, only the Confederate soldiers are present, I'll get started on the Union Compiled Service Records soon.
I've added a "Support this Site" link for donations to help fund future research, including trips to Richmond and Emory and Henry University.
Added scans and transcriptions of all Gilmer letters that I have (approximately 75 letters) with help from Donna Akers Warmuth. Here for the author list and here for the letters in chronological order.
The Letters section has over 100 Civil War letters written to and from Civil War soldiers from Russell County. Families include Barrett, Blackwell, Combs, Cowan, Fletcher, Fuller, Gilmer, Kelly, Kendrick, Martin, McFarlane, Reynolds, Vermillion, and Whitt.
Four photos of Confederate veterans, taken in ca. 1905, ca. 1910, 1912 and 1920. Many of the veterans are unidentified. Can you help?
The Soldiers and Units page has a list of every soldier who served from Russell County.
The Obituary Index is to the Lebanon News paper. It has the entire text of the mention in the paper.
1888 Civil War Pension Applications and the 1900 Pension Applications have been added.
Death Notices from the Confederate Veteran also has full text of notices of death for many Russell County veterans.
Lebanon News Articles contains mentions of Confederate veterans and their activities from 1900-1933.

Welcome

to the Russell County, Virginia Civil War Website. Here you will find information on all aspects of

Russell County and the soldiers who served during the Civil War. If you have any questions or comments just drop me a line at greg@rhobard.com I am always looking for more information and resources related to Russell County during the Civil War.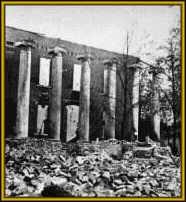 The work of McCausland's brigade. The Court House in Chambersburg, PA 1863.